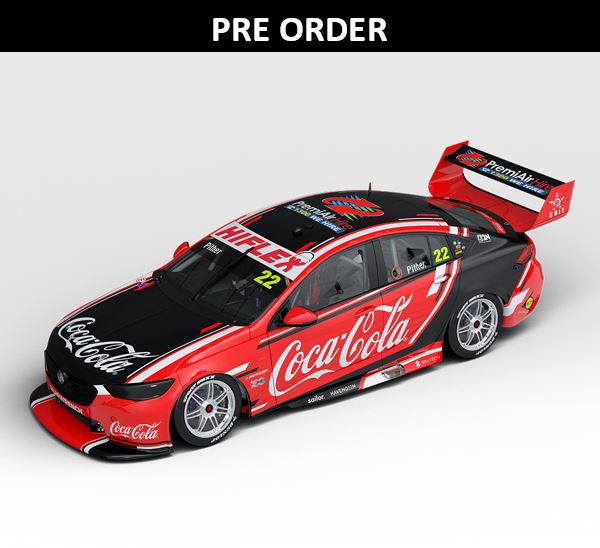 PREMIAIR COCA-COLA RACING 2022 SEASON LIVERY #22 PITHER 1:18
ACR18H22G
This model is currently available on PRE ORDER.
ETA at time of listing 2023
Please Note: Price and ETA are correct at update. Both are subject to change without notice.
$230.00
Available on backorder
Description
IMPORTANT MESSAGE ABOUT PRE ORDERING MODELS
A model may not be available for a number of months from the time it is listed on our store, as there is a lengthy process that models must undergo before, during and after production, such as approval from sponsors, shipping, and customs hold ups. We depend on Model Manufacturers/Distributors to provide us with as much information as possible. We are only Stockists of this product.
Price and ETAs are correct at listing, as advised by the manufacturing model company. Both are subject to change, which is governed by the distributor of the model, and not by our company. If we are notified of a price change by the manufacturer, we will be in touch with all customers to inform them of this. Any price difference must be actioned before any goods can be shipped out. If necessary, you will not be asked to pay the price difference until the pre ordered stock has arrived in our warehouse.
We aim to keep you as updated as possible regarding ETA and possible price changes, as information becomes available to us from our supplier.
__________________________________________________________________________________
ABOUT THE MODEL
PremiAir Racing makes its debut in the Supercars Championship as a two car team and the new kids on the block in 2022. Formed by respected racer and businessman Peter Xiberras after purchasing Team Sydney / Tekno Autosports, the team was essentially put together in a remarkably short time frame just prior to the start of the season.
If the success of this venture is being judged purely on how the teams cars look then it has already been a raging success. With Chris Pither driving the #22 Coca-Cola backed Holden ZB Commodore, the team has adopted a livery design that works extremely well across both of their cars despite featuring different major partners with very different colour schemes.
The PremiAir Coca-Cola Racing Commodore is one of the best looking cars on the grid in 2022 and we're excited to be replicating it in scale model form.
The 1:18 scale model is scheduled to be produced in sealed body resin with clear windows and detailed interior in a limited edition with an individually numbered Certificate of Authenticity.
---
Only logged in customers who have purchased this product may leave a review.