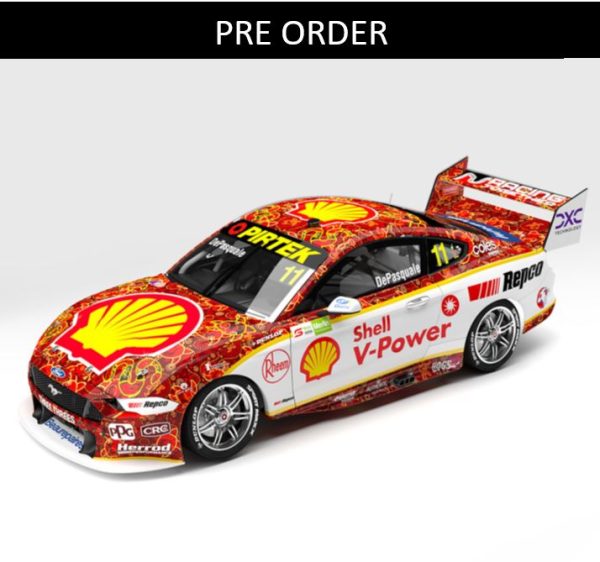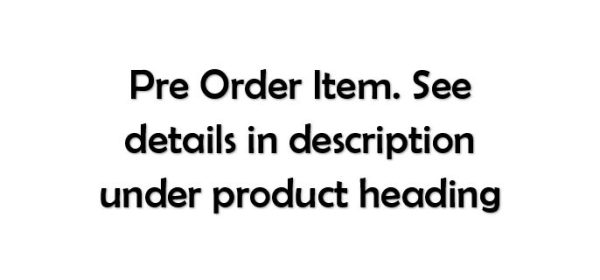 PRE ORDER – SVPRT 2021 MERLIN DARWIN TRIPLE CROWN INDIGENOUS LIVERY – #11 ANTON DEPASQUALE 1:43
ACD43F21H
This model is currently available on PRE ORDER.
ETA at time of listing – 2022
Please Note: Price and ETA are correct at update. Both are subject to change without notice.
$99.00
Available on backorder
Description
Shell V-Power Racing Team #11 Ford Mustang GT
2021 Merlin Darwin Triple Crown Indigenous Livery
Driver: Anton De Pasquale
MODEL CAR INFORMATION:
There's no doubt that the now very familiar, perhaps iconic, Shell V-Power livery raced by the team over the past five years looks fantastic but it was very refreshing to see a big change when the team unveiled a spectacular one-off indigenous livery on both their Ford Mustangs for the 2021 Darwin Triple Crown.
Dedicated to Racing Together, a programme designed to give 12-to-18-year-old Aboriginal and Torres Strait Islanders an opportunity to pursue a career in motorsport as a driver or a member of a race team, the impressive livery was designed by Braedyn Cidoni who is a Racing Together team member. Also an aspiring driver for Racing Together, Cidoni's design was inspired by the artwork of Allison Millcock and the result looked exceptional on the sides of the #11 and #17 Shell V-Power Mustangs.
Come race weekend, De Pasquale's trip to the Top End had plenty of action. A magnificent qualifying performance put car 11 on Pole for Race 12 on the Saturday only to be rear-ended on the opening lap to see his race over as soon as started. The young gun again qualified well for both Sunday races to start from P3 but some pitstop and racing errors ultimately cost the team stronger results for both outings.
Nevertheless, car 11 was fast in Darwin and the indigenous livery was received with tremendous respect and fanfare. With many fans sending us messages requesting this livery to be replicated in scale model form, these models are sure to be a popular addition to collections for fans of the Shell V-Power Racing Team.
The 1:43 scale version is scheduled to be produced in sealed body die-cast with clear windows, detailed interior and will be presented in a clear acrylic display case with a numbered backing board which acts as the Certificate of Authenticity.
________________________________________________________________________________________________________
IMPORTANT MESSAGE ABOUT PRE ORDERING MODELS
A model may not be available for a number of months from the time it is listed on our store, as there is a lengthy process that models must undergo before, during and after production, such as approval from sponsors, shipping, and customs hold ups.
We depend on Model Manufacturers/Distributors to provide us with as much information as possible. We are only Stockists of this product.
Price and ETAs are correct at listing, as advised by the manufacturing model company. Both are subject to change, which is governed by the distributor of the model, and not by our company. If we are notified of a price change by the manufacturer, we will be in touch with all customers to inform them of this. Any price difference must be actioned before any goods can be shipped out. If necessary, you will not be asked to pay the price difference until the pre ordered stock has arrived in our warehouse.
We aim to keep you as updated as possible regarding ETA and possible price changes, as information becomes available to us from our supplier.