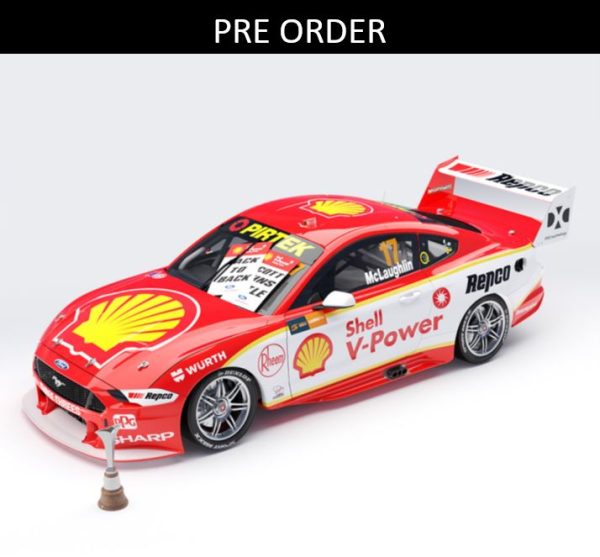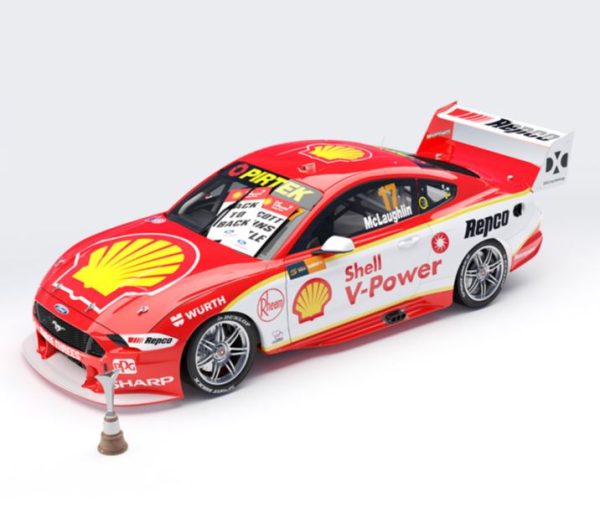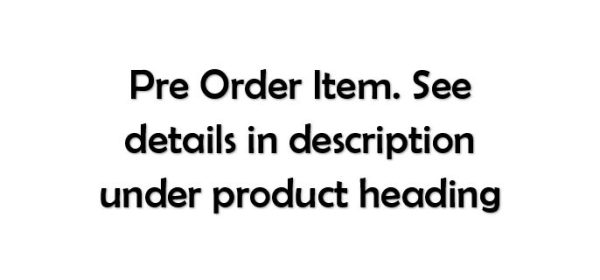 PRE ORDER – SVPRT 2019 VIRGIN AUSTRALIAN SUPERCARS CHAMPIONSHIP WINNER – #17 SCOTT MCLAUGHLIN 1:12
ACR12F19CW
This model is currently available on PRE ORDER.
ETA at time of listing – 2022
Please Note: Price and ETA are correct at update. Both are subject to change without notice.
$599.00
Available on backorder
Description
Shell V-Power Racing Team #17 Ford Mustang GT
2019 Virgin Australia Supercars Championship Winner
Driver: Scott McLaughlin
MODEL CAR INFORMATION:
If winning the 2018 championship was a road to redemption for Scott McLaughlin and Shell V-Power Racing Team then his 2019 championship win was a road to broken records.
McLaughlin and the team were simply in a league of their own for much of the year, starting by winning both races at the season opening Adelaide 500 to give the brand new Ford Mustang GT a perfect debut along with claiming McLaughlin's first Adelaide 500 crown. From Adelaide, McLaughlin went on an absolute tear leaving all competition behind him. He racked up race wins at Albert Park, Symmons Plains, Phillip Island, Barbagallo, Winton and then Hidden Valley where he became the first driver to ever accomplish the feat of winning the Triple Crown.
Wins at Townsville and Queensland Raceway were followed by a weekend sweep at The Bend Motorsport Park which pushed his tally to 16 wins for the year, equaling the record of most race wins in a season set by Craig Lowndes in 1996. Fittingly, McLaughlin broke that 23-year-old record at his home round at Pukekohe in front of an adoring New Zealand crowd, notching up win number 17 for the year in his 100th Supercars Championship round start.
The next focus for the young Kiwi was claiming a maiden Bathurst 1000 win and that's exactly what he did, McLaughlin and co-driver Alexandre Prémat put in supreme driving performances to take out the first Bathurst win for the team in 25 years and the first under the DJR Team Penske banner.
The almost-perfect season was brought – literally – crashing back to earth at the following round, the Gold Coast 600. McLaughlin hit a concrete wall at 140km/h while pushing the limits in qualifying, the savage impact writing off his Bathurst-winning #17 Mustang, never to be raced again. A mammoth round-the-clock effort saw the team build a new car in a week for the Sandown 500 where he and Premat's ninth place finish was enough for McLaughlin to wrap up the 2019 championship with a round to spare.
Second and fourth place finishes at the Newcastle 500 capped off a remarkable season, McLaughlin raising the Supercars Championship trophy to become just the 10th driver to win back-to-back titles after a year where he took 18 wins, 15 poles and 22 podiums, along with being voted the Most Popular Driver by the fans and the Driver's Driver by his peers.
This model is scheduled to be produced by Authentic Collectables in high quality sealed body resin with clear windows and detailed interior in a limited edition with an individually numbered Certificate of Authenticity along with a scale replica Championship trophy and winners boards.
________________________________________________________________________________________________________
IMPORTANT MESSAGE ABOUT PRE ORDERING MODELS
A model may not be available for a number of months from the time it is listed on our store, as there is a lengthy process that models must undergo before, during and after production, such as approval from sponsors, shipping, and customs hold ups.
We depend on Model Manufacturers/Distributors to provide us with as much information as possible. We are only Stockists of this product.
Price and ETAs are correct at listing, as advised by the manufacturing model company. Both are subject to change, which is governed by the distributor of the model, and not by our company. If we are notified of a price change by the manufacturer, we will be in touch with all customers to inform them of this. Any price difference must be actioned before any goods can be shipped out. If necessary, you will not be asked to pay the price difference until the pre ordered stock has arrived in our warehouse.
We aim to keep you as updated as possible regarding ETA and possible price changes, as information becomes available to us from our supplier.