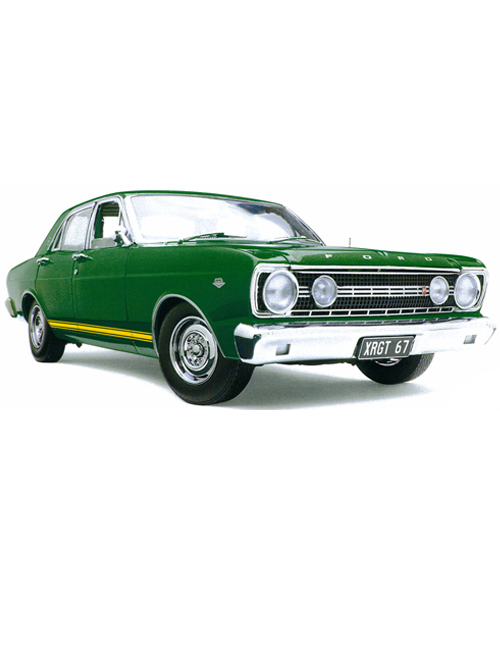 PRE ORDER – FORD XR GT FALCON – IVY GREEN 1:18
18699
Available for pre order only. ETA at announcement: 4th Quarter 2019
Please Note: Price and ETA are correct at listing. These are both subject to change without notice
$279.00
Available on backorder
Description
The XR GT Falcon was released to the public in May 1967. The credibility of the XR was strengthened when it was selected by the New South Wales and Victorian police as their high pursuit vehicle.
Bill Bourke, Ford Australia's Managing Director at the time, saw the prototype of the XR Falcon V8 police special and decided to develop a production version. This new GT was developed at Ford's proving ground You Tang in North Melbourne by Ford engineers in conjunction with Harry Firth, a leading driver and race car preparer. Sales success was assured due to a Bathurst win in 1967 by Harry Firth and Fred Gibson.
The XR GT had well and truly proven itself as a vehicle that offered performance, comfort and safety amongst its features.
The XR GT was most famously produced in GT Gold paint. Of the 684 manufactured, 671 were gold, the remaining 13 cars were split between 6 colours. Eight of the cars were painted in 'Gallaher Silver' to promote the sponsor of the 1967 Bathurst race. Three cars were delivered to race teams for the Bathurst race, painted in 'Ivy Green', 'Polar White' and 'Sultan Maroon'. The remaining two were painted for Ford executives – one went to Bill Bourke who requested Russet Bronze version, and the last car was painted in Avis White for an unnamed executive.
Key Features:
Die cast replica
Limited in edition to 750 worldwide
Available for pre order only. ETA at announcement: 4th Quarter 2019
Please Note: Price and ETA are correct at listing. These are both subject to change without notice