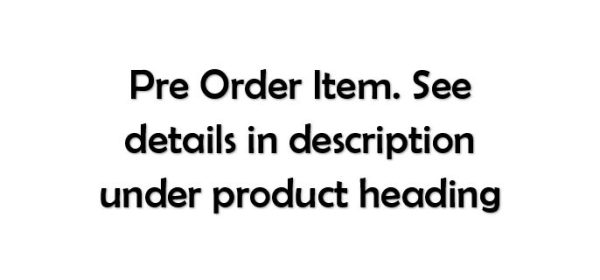 PRE ORDER – EREBUS MOTORSPORT 2021 BP ULTIMATE SYDNEY SUPERSPRINT RACE 28 WINNER – #9 WILL BROWN 1:43
ACD43H21H
This model is currently available on PRE ORDER.
ETA at time of listing – 2022
Please Note: Price and ETA are correct at update. Both are subject to change without notice.
$99.00
Available on backorder
Description
Erebus Motorsport #9 Holden ZB Commodore
2021 BP Ultimate Sydney SuperSprint Race 28 Winner
Driver: Will Brown (First Supercars Championship Race Win)
MODEL CAR INFORMATION:
In a run of consecutive race meetings held across multiple weekends at Sydney Motorsport Park in late 2021 as part of the final rounds of the Supercars Championship, Erebus young gun Will Brown and the team had the #9 Holden ZB Commodore dialled in, was consistently fast and looked to be building towards something special.
After claiming his maiden Supercars championship podium only a few weeks earlier, it was becoming increasingly obvious that a first win for Brown could be on the cards based on his form. That form ultimately stayed true as he claimed his first race win in the category in Race 28 of the BP Ultimate Sydney SuperSprint in one of the most exciting races of the year.
Leading the formidable duo of team mates Jamie Whincup and Shane van Gisbergen, both drivers battled for position while arguing the point about team orders and despite that, were still making gains on Brown each lap to be right on his tail for the dying stages of the race. Brown was unfazed and brilliant, keeping his cool under immense pressure from the champion drivers behind him to cross the finish line in P1.
With the win, Brown became the 13th youngest race winner in championship history and while the win was great, his celebratory burnouts in the Shaw and Partners Financial Services Commodore were probably even better!
The 1:43 scale version is scheduled to be produced in sealed body die-cast with clear windows, detailed interior and will be presented in a clear acrylic display case with a numbered backing board which acts as the Certificate of Authenticity.
________________________________________________________________________________________________________
IMPORTANT MESSAGE ABOUT PRE ORDERING MODELS
A model may not be available for a number of months from the time it is listed on our store, as there is a lengthy process that models must undergo before, during and after production, such as approval from sponsors, shipping, and customs hold ups.
We depend on Model Manufacturers/Distributors to provide us with as much information as possible. We are only Stockists of this product.
Price and ETAs are correct at listing, as advised by the manufacturing model company. Both are subject to change, which is governed by the distributor of the model, and not by our company. If we are notified of a price change by the manufacturer, we will be in touch with all customers to inform them of this. Any price difference must be actioned before any goods can be shipped out. If necessary, you will not be asked to pay the price difference until the pre ordered stock has arrived in our warehouse.
We aim to keep you as updated as possible regarding ETA and possible price changes, as information becomes available to us from our supplier.