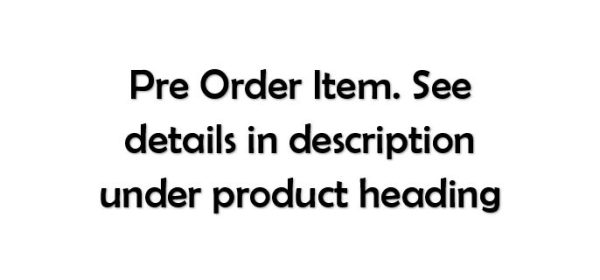 PRE ORDER – DEWALT RACING 2021 REPCO SUPERCARS CHAMPIONSHIP SEASON – #20 SCOTT PYE 1:43
ACD43H21F
This model is currently available on PRE ORDER.
ETA at time of listing – 2022
Please Note: Price and ETA are correct at update. Both are subject to change without notice.
$99.00
Available on backorder
Description
DEWALT Racing #20 Holden ZB Commodore
2021 Repco Supercars Championship Season
Driver: Scott Pye
MODEL CAR INFORMATION:
After joining Team 18 for the 2020 season, Scott Pye claimed the team's first podium as a standalone outfit at the Darwin Triple Crown before he followed up with two more third place finishes at Hidden Valley the next weekend and finished sixth at the season-ending Bathurst 1000 with Dean Fiore.
He continued on with the team for the 2021 Repco Supercars Championship season and remains a solid, reliable driver in the stunning yellow and black DEWALT Holden ZB Commodore, finishing in the top 10 on multiple occasions throughout the year.
Authentic Collectables are very proud become the official model car partner for Team 18 / DEWALT Racing to be able to replicate the #20 Commodore.
The 1:43 scale version is scheduled to be produced in sealed body die-cast with clear windows, detailed interior and will be presented in a clear acrylic display case with a numbered backing board which acts as the Certificate of Authenticity.
________________________________________________________________________________________________________
IMPORTANT MESSAGE ABOUT PRE ORDERING MODELS
A model may not be available for a number of months from the time it is listed on our store, as there is a lengthy process that models must undergo before, during and after production, such as approval from sponsors, shipping, and customs hold ups.
We depend on Model Manufacturers/Distributors to provide us with as much information as possible. We are only Stockists of this product.
Price and ETAs are correct at listing, as advised by the manufacturing model company. Both are subject to change, which is governed by the distributor of the model, and not by our company. If we are notified of a price change by the manufacturer, we will be in touch with all customers to inform them of this. Any price difference must be actioned before any goods can be shipped out. If necessary, you will not be asked to pay the price difference until the pre ordered stock has arrived in our warehouse.
We aim to keep you as updated as possible regarding ETA and possible price changes, as information becomes available to us from our supplier.