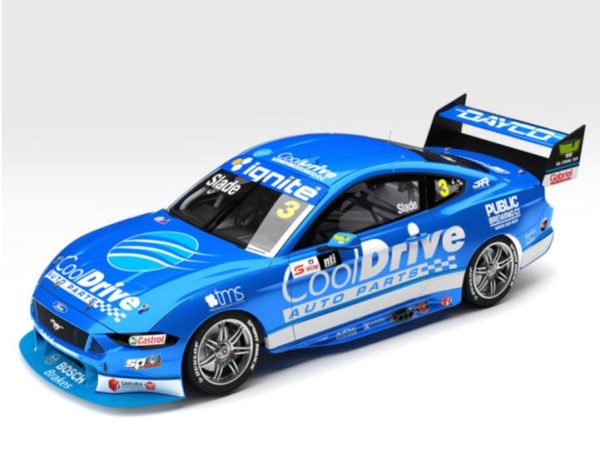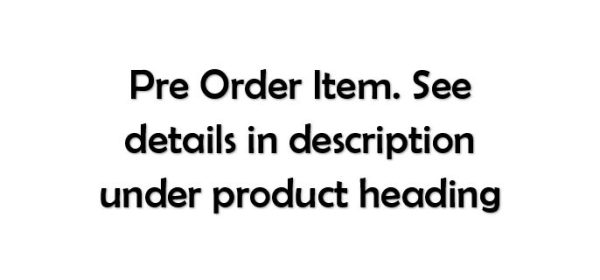 PRE ORDER – COOLDRIVE RACING 2021 REPCO SUPERCARS CHAMPIONSHIP SEASON – #3 TIM SLADE 1:18
ACD18F21F
This model is currently available on PRE ORDER.
ETA at time of listing – 2022
Please Note: Price and ETA are correct at update. Both are subject to change without notice.
$250.00
Available on backorder
Description
CoolDrive Racing #3 Ford Mustang GT
2021 Supercars Championship Season
Driver: Tim Slade
MODEL CAR INFORMATION:
Tim Slade made his return to a full time drive in the Supercars Championship for the 2021 season with CoolDrive Racing in a Tickford built Ford Mustang GT.
Featuring an absolutely knock-out blue livery, Slade arrived at the season opening Mt Panorama 500 and instantly turned heads – and it wasn't solely due to how magnificent the #3 entry looked!
The new season started in a very promising fashion after a massive off-season which saw the team essentially become a fully self-contained and run race team. Slade qualified strongly for Race 1 to see himself starting on the front row in P2 and a podium finish was looming before an unfortunate missed gear in the later stages of the race locked the rears and saw Slade spear into the fence at Forrest's Elbow, leaving the car a wreck.
Since the dramatic exit from the opening round, the positives have all been there to see. The team has slowly but surely improved as the year progressed with multiple top 10 finishes. Results aside, there's no argument that this car is truly one of the best looking challengers on the grid in 2021. The striking blue Mustang is going to look absolutely exceptional in scale replica form and this season model will be based on the NTI Townsville 500 livery.
The 1:18 scale model is scheduled to be produced in die-cast with fully opening parts in a limited edition with a numbered Certificate of Authenticity.
________________________________________________________________________________________________________
IMPORTANT MESSAGE ABOUT PRE ORDERING MODELS
A model may not be available for a number of months from the time it is listed on our store, as there is a lengthy process that models must undergo before, during and after production, such as approval from sponsors, shipping, and customs hold ups.
We depend on Model Manufacturers/Distributors to provide us with as much information as possible. We are only Stockists of this product.
Price and ETAs are correct at listing, as advised by the manufacturing model company. Both are subject to change, which is governed by the distributor of the model, and not by our company. If we are notified of a price change by the manufacturer, we will be in touch with all customers to inform them of this. Any price difference must be actioned before any goods can be shipped out. If necessary, you will not be asked to pay the price difference until the pre ordered stock has arrived in our warehouse.
We aim to keep you as updated as possible regarding ETA and possible price changes, as information becomes available to us from our supplier.