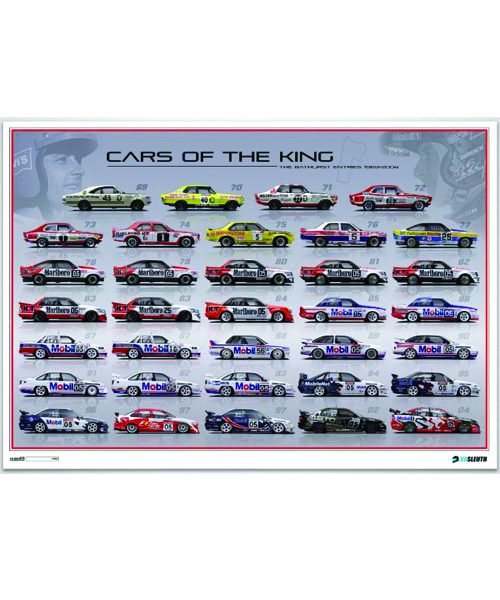 PRE ORDER – CARS OF THE KING: BROCK'S BATHURST ENTRIES 1969 – 2004 PRINT
V8SPH-008
Available for pre order only. ETA at announcement: November 2019
Please Note: Price and ETA are correct at listing. Both are subject to change without notice
$79.95
Openpay is available on orders from $100 - $1,000.
Available on backorder
Description
From the Monaro GTS 350 he drove in his first Bathurst start in 1969 right through to the 2004 HRT Commodore VY he drove with Englishman Jason Plato, all of his Bathurst 500/1000 cars are included with Holdens featuring prominently.
The Toranas and Commodores in which he scored his nine wins feature (1972, 1975, 1978, 1979, 1980, 1982, 1983, 1984, 1987) as well as the 1988 BMW M3, 1989 and 1990 Ford Sierras as well as the two-litre Vauxhall Vectra he drove in the 1997 AMP Bathurst 1000.
Cars have been captured with superb detail and accuracy.
Key Features:
841mm x 594mm in size
Individually numbered
Printed on 250gsm matte paper
Signed by Peter Hughes, the artist
Limited in edition with number TBA based on orders
Available for pre order only. ETA at announcement: November 2019
Please Note: Price and ETA are correct at listing. Both are subject to change without notice