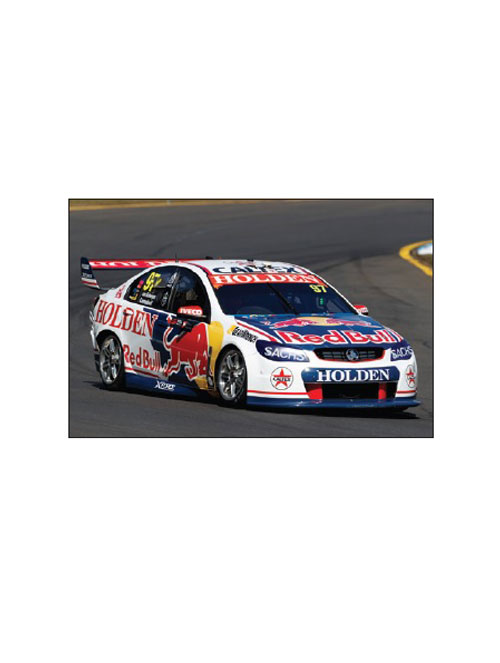 2017 SUPERCARS RED BULL HRT SANDOWN 500 RETRO ROUND GISBERGEN/CAMPBELL 1:12
$475.00
Only 1 left in stock
Description
The Sandown 500 holds a special place in Australian motorsport as one of the most historic touring car events in the country having started as a six-hour race back in 1964. In recent years the Virgin Australia Supercars Championship has turned the endurance classic into its annual 'Retro Round' where cars, drivers and achievements of years gone by are celebrated, in particular by 'throwback' liveries on the current Supercars on-track. For the 2017 race Triple Eight Race Engineering came up with striking retro liveries on its three cars for the Melbourne classic, giving them a much different appearance to their regular look they carried in previous rounds of the championship.
The pair of Red Bull Holden Racing Team Commodores – car #88 driven by Jamie Whincup and Paul Dumbrell and car #97 driven by Shane van Gisbergen and Matt Campbell – paid tribute to the original Holden Dealer Team with an HDT-inspired livery featuring 'old school' Holden and Caltex logos blended with the modern Red Bull branding. "HDT's 1971 GTR-XU1 Torana was drawn upon for the thick, simple red striping and placement of the historic Holden Lion on the c-pillar, combining it with the '70s Holden font on the rear quarter signage," explained GM Design Australia Exterior Manager Peter Hughes. "Keeping true to the look of the era, the bonnets of the Red Bull Holden Racing Team Commodores are dark blue, maintaining the stark contrast between panels that was common for the period." The RBHRT cars were fast at Sandown when they were rolled out onto the track. Whincup and Dumbrell qualified fourth after the Saturday qualifying races with van Gisbergen/Campbell 21st after issues. Both were contenders for the podium in the 500-kilometre classic though both fell victim to punctures that eliminated each crew from challenging for victory. Dumbrell led the race in car #88 before he had a tyre let go on lap 36, though he and Whincup were able to fight back and eventually claim sixth place and crucial points for Whincup's championship challenge. "Overall it was a disappointing result but I'm pretty proud of everyone," said Whincup post-race.
"We tried, we pushed through hard, we had our challenges all week. We had a quick car again and led the race 'til the tyre blew out, I'm not sure why but we will investigate on what happened there. "We put on a good show up until the midway point but unfortunately not our day. We made our way up and scored some solid points. PD had a great drive, he led by four and a half seconds and we couldn't have asked for anything more." Car 97 also had tyre issues, van Gisbergen at the wheel in third place with 20 laps left in the race (which was shortened and run to a time certain finish after an hour-long delay to repair a wall damaged in an accident on lap one) when he had a front right tyre go. He limped back to the pits, had it replaced and eventually crossed the line 16th, which became 15th in the final results when the ninth-placed Tim Slade/Ash Walsh Commodore was excluded for a driver time infringement. "Today started really well, we had a good first lap and first stint," said van Gisbergen post-race. "Matty got in and did a great job, he didn't lose too much time when the main guys got in and we were about eight seconds off the lead. I got in and couldn't catch the leaders so I was conserving tyres and then it just popped. It's a shame."
The team's #888 Caltex-backed entry of Craig Lowndes and Steve Richards adopted a livery inspired by the Caltex-backed Alfa, Ford Sierras and Toyota Corolla Secas raced by Hall of Famer Colin Bond during the 1980s and early 1990s. Instead of replicating one livery in particular the design was more reminiscent of numerous Caltex liveries carried by Bond on the above-mentioned cars during his stellar career. GM Design Australia Exterior Manager Peter Hughes created an amalgamation of memorable designs: "We took all those historic cues and brought them together onto the VF Commodore to create a bespoke livery that is unmistakably 1980s Caltex, but unique and original in its own way."  Lowndes and Richards – the most experienced combination in the race – were forced to start 23rd for the Sunday race after a broken power steering rack meant a non-finish in Lowndes' qualifying race on Saturday. They soldiered on strongly in the '500, eventually finishing 12th but frustrated that the time-certain finish had robbed them of further laps to reclaim even more positions. They were elevated post-race to 11th place following the Slade/Walsh exclusion. While the Wilson Security Sandown 500 in 2018 was ultimately a tough day for Triple Eight Race Engineering, its embrace of the retro round concept made its three cars instant standouts in the pack.
As is standard with our 1:12 range, there will be numerous features worth noting with this model. They include using injection moulded glass housings for added strength and accuracy, photo etched parts, detailed brakes, wheels and we have also included the hamburger camera on the roof along with GPS tracker on the boot. Despite the model being produced in sealed body resin (in order to maintain an affordable price point for collectors) there has been no expense spared in replicating the interior cockpit. The interior detail includes full decoration, faithfully replicated seat and painted interior characteristics along with fabric seat harness and window netting.
It's also important to note that the model will be produced with the rear wing as a separate piece to avoid damage during shipping. Once removed from the packaging, the separate rear wing easily sits in the two designated anchor points on the boot to complete the look of the model.
This model will be produced in an exclusive limited edition with the number to be set based on pre-orders received and presented in deluxe packaging along with a commemorative flyer and numbered Certificate of Authenticity. It's an amazing collectors piece and one that shouldn't be missed.
Key Features:
Exclusive limited edition number based on pre order sales.
Deluxe packaging with commemorative flyer and numbered Certificate of Authenticity